2021 Ford Bronco: An American Classic Returns
Ford initially announced the revitalization of the Bronco back in 2017 at the Detroit Auto Show, and recently the internet has seen a wave of spy photos and tidbits of information. We at Betten Baker Ford of Coopersville want to provide you a one stop blog with all of the best information out there. While the new Bronco isn't slated to touch down on Betten Baker lots until late this year, we figured we'd give you an inside look on what Ford has cooking.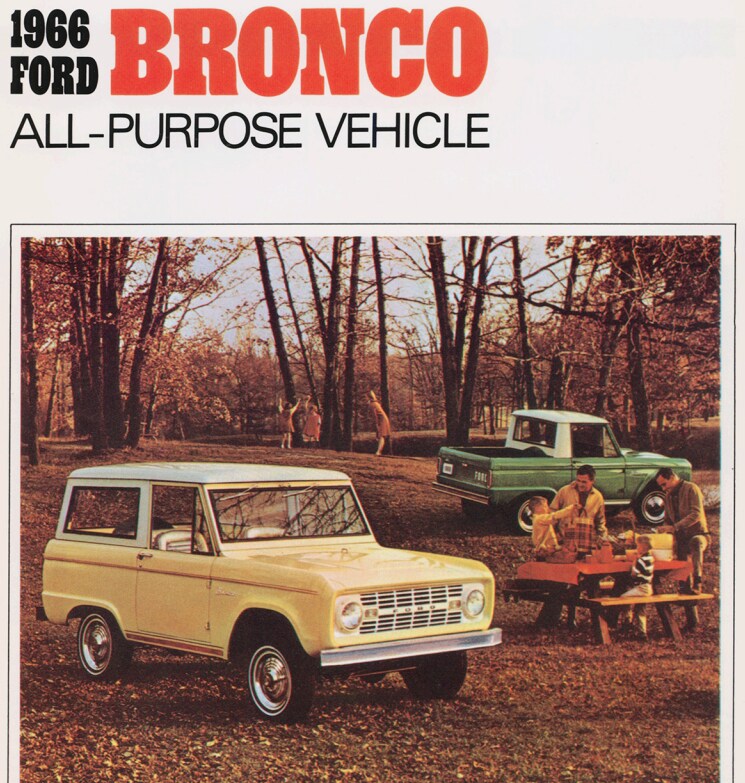 Successfully modernizing a timeless classic means running a razor-thin line between blasphemy and anachronism. But this mentality has pushed Ford toward recreating the best, most capable, SUV possible to reincarnate their American classic. Bronco nostalgia is arguably more powerful now than it's ever been, after all it has been 24 years since the last Bronco rolled off the line. While we don't know exactly what Ford will be hiding under the cloth at the reveal we have scoured the internet, spy photos, parts guides, and other resources to find and provide our Betten Baker family all of the information we can about the 2021 Bronco!
In an interview  Raj Nair, the Chief Technical Officer and Executive Vice President of Product Development, explained the new Bronco as a completely new model. Contrary to popular speculations the new Bronco will be much more than a re-badged Ford Everest. The Bronco will "live up to the heritage" of the original Broncos with the "capability and confidence all around" that was known and loved by previous Bronco owners. Nair was also quick to emphasize the fact that the Bronco will be a body-on-frame design. When asked how the Bronco will compare to the Wrangler, Nair simply responded; "In a departure from Jeep's approach, Ford is envisioning the Bronco as more of a high-speed desert runner than a low-speed rock crawler."
What Do We Know
There Will Be a Bronco Sport "Baby Bronco" Model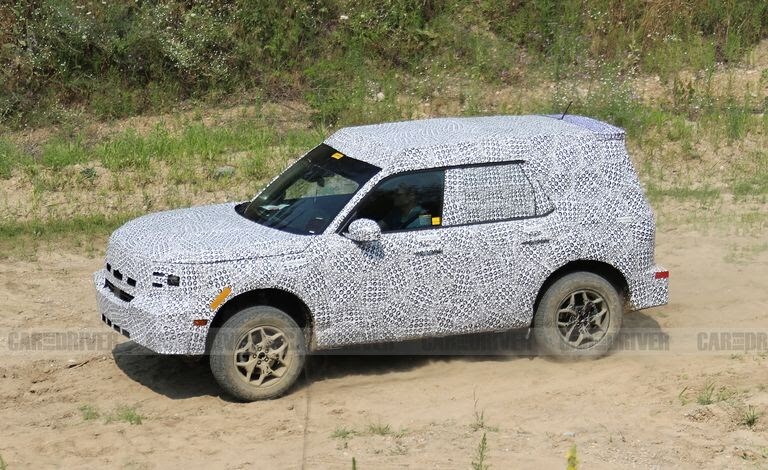 While less is known about the Bronco Sport we at Betten Baker do know that the sport will use the same unibody platform as the 2020 Escape, meaning it is likely to have the same 106.7-inch wheelbase despite using a boxier body. We also expect it to share power trains with the Escape, meaning it will have a turbocharged 1.5-liter three-cylinder engine standard, and a turbocharged 2.0-liter four-cylinder as an option. Key variants will include an optional all-wheel-drive system, which should be beefed up to back up the Bronco Sport's off-road image. Because of this off-road image we also have reason to believe that the Bronco Sport may include some sort of differential lock or low range, along with a driving mode selector to adjust for various terrains. The Bronco Sport is set to be debuted a April.
The "Baby Bronco" Will Have a Hybrid Option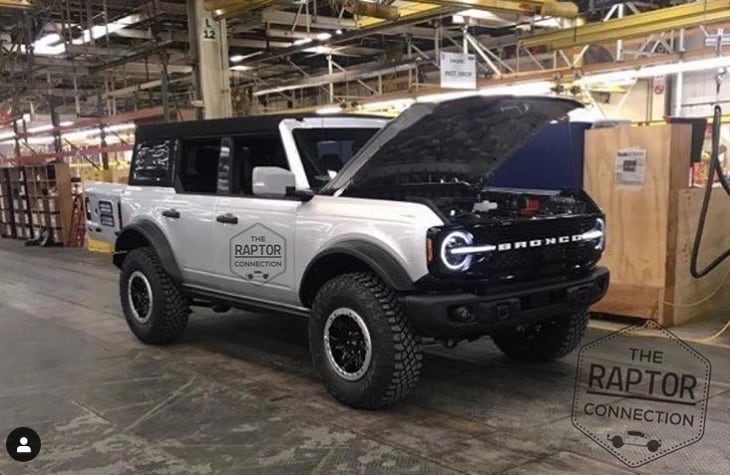 Ford has stated it plans to offer a gas-electric power
train in the Bronco Sport, like the conventional gas
engines. Betten Baker think

 
s this setup will also be shared with the Escape. That means it's possible the Bronco Sport will have both a traditional gas-electric hybrid setup and a plug-in-hybrid option that would provide some amount of all-electric driving range. Both Escape hybrid models use a naturally aspirated 2.5-liter inline-four as their gasoline engine.

 
UPDATED (3/10)
The Baby Bronco has
officially
leaked.
The image to the left depicts the new Baby Bronco completely road ready, leaked from the factory in Wayne, MI.
There Will be Ford Bronco "Big Bronco" Model
The Bronco SUV Will Sit On The Global Ford Ranger Platform: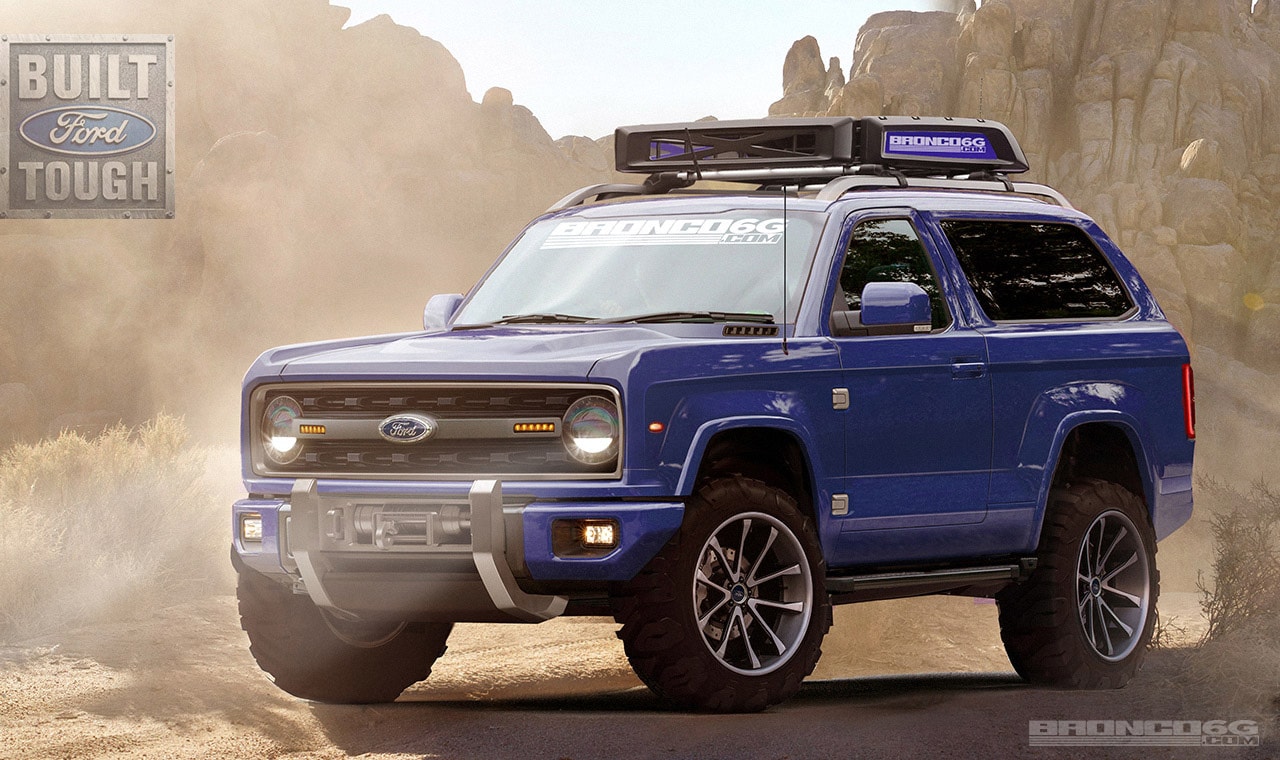 As confirmed by Ford the sixth generation Bronco will sit on a shared, modified T6 platform, the same platform that the 2019 Ranger uses. This means that the Bronco will be comfortable on both pavement and rough terrain. We can also assume that the Bronco's body dimensions will be similar to that of the Ranger. While the Bronco will utilize basic chassis and other components from the Ranger the majority of the car will be designed and engineered in the United States, at the same Wayne Michigan plant where the original Bronco was built. Ford has confirmed that the Bronco will be revealed in March.
What's Under The Hood:
Base Broncos will be paired with a turbocharged 2.3-liter inline-four that produces  270-ish horsepower and 310-ish pound-feet of torque. A twin-turbo 2.7-liter V-6 will be optional, likely increasing those numbers to around 325 horsepower and 400 pound-feet. In addition to Ford and GM's co-developed 10-speed automatic, meanwhile word is that a manual transmission is in the works. (Update: 3/4/20) A recent post by Reddit user u/mrpoodles11 shows a snip-it of a press release by GETRAG, the partner company between third party supplier Magna and Ford Motor Company, which depicts a new seven speed manual transmission that has been developed. The transmission, called the 5/6/7MTI550, is referred to as a modular transmission intended for longitudinal applications with either rear- or all-wheel drive. This new transmission can be configured to have five, six, or seven speeds, with the seven-speed version boasting a "crawler" gear for off-roading. Though the current specs for the seven-speed model do not list specific gear ratios, they do indicate a potential gear ratio spread of up to 11. By comparison, this offers more range than the 7.1 spread of the six-speed manual on the Wranglers. Assuming the Bronco is equipped with a two-speed transfer case, the low-range gearing will offer even more rock crawling capabilities.
There Will Be a Two and Four Door Variant: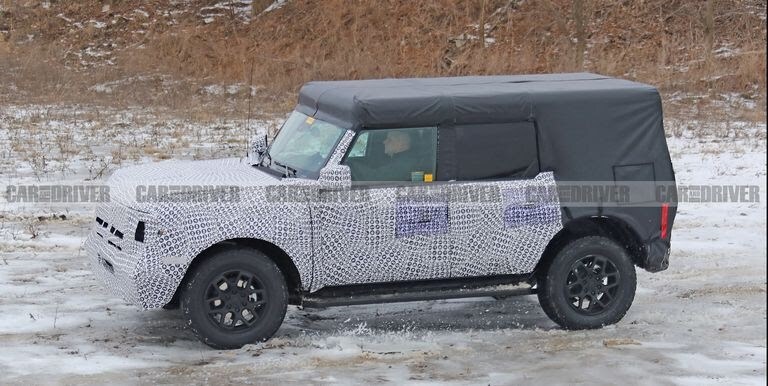 Recent spy photos, taken around metro Detroit depict both a coupe and four door variant of the upcoming Bronco. We at Betten Baker assume that this is Ford's attempt to be inclusive of families in the offloading community. Where the Wrangler has an Unlimited variant with a second set of doors the Bronco is slated to do the same. Both variants will be equipped with removable doors and roofs.
There Will Be Ten Color Options:
         A recent leak on the F-150 blog: F150gen14.com, shows a list of the 10 color options, and their names, that will be available on the bronco. While that standard Black, Gray, and White will be available, buyers have the option to go more exotic with a color options like Cyber Orange Pearl & Racing Red. We are excited to see what colors our customers will order their Broncos!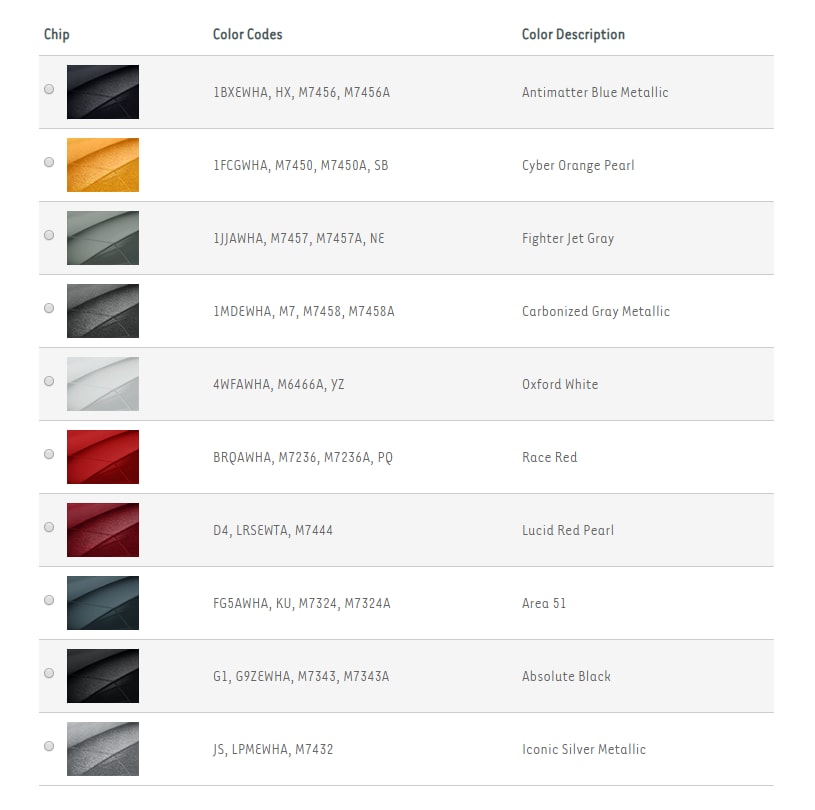 There Will Be Multistage Removable doors: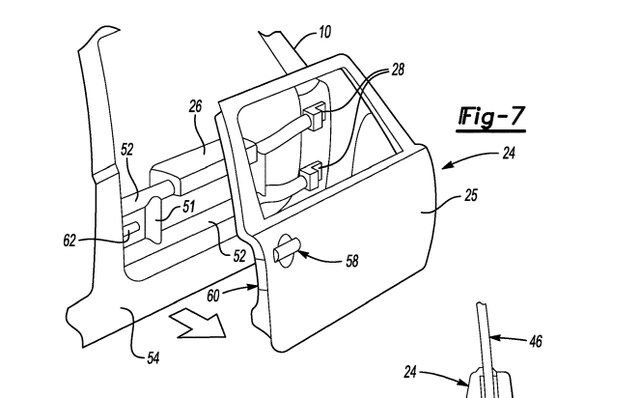 Ford recently filed a trademark request with United States Patent and Trademark Office which depicts what appears to be a removable exterior door assembly that reveals an inner guard bar system to give the cabin a more open air experience without the tedious task of removing an entire door. While drivers are able to remove the entire door, including this internal bar system if preferred, Ford has designed this system to assist with keeping younger passengers and pets safe while allowing them to enjoy the open air driving experience.
There Will Be A Versatile Removable Roof: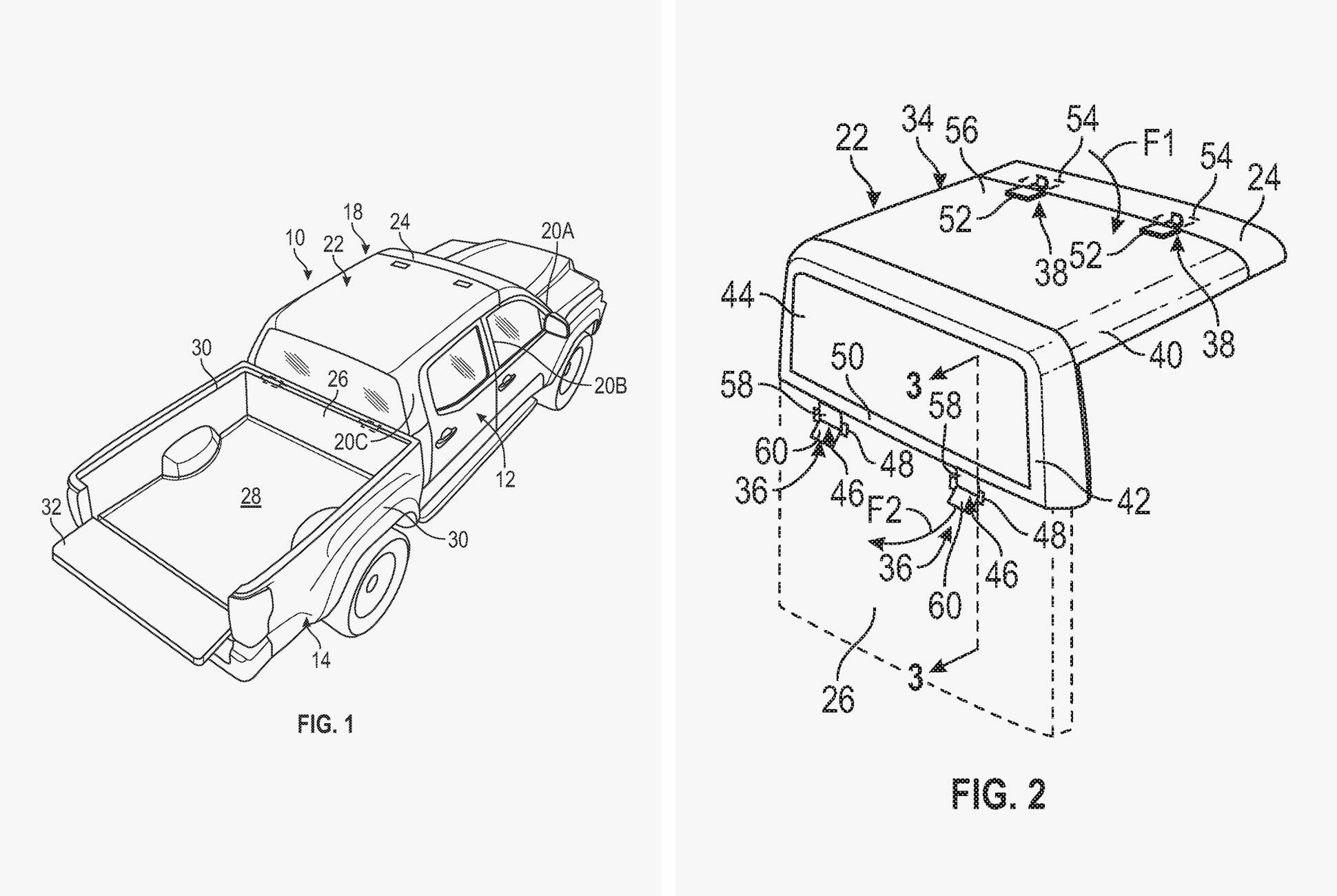 Ford also recently filed another patent that depicts removable and sectioned roof pieces. The patent depicts a removable hard top, with latching assemblies that would allow the roof cap and rear window architecture to be removed, similar to that on a Wrangler or Gladiator. However, the patent also depicts a self-aligning mounting system that would make roof removal and replacement truly a one person job. While the patent pictured depicts this roof being used on a ranger, we believe Ford displayed the incorrect vehicle to keep design elements secret.
Some Bronco Trims Will Come With Moisture-Sensing Seat Technologies: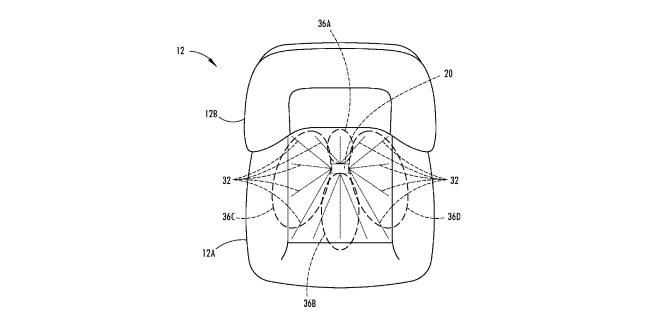 Another recent filing at the United States Patent and Trademark Office
depicts a system for the Bronco's front and rear seats, that utilizes liquid-permeable seat covers which will allow sensors to detect dampness and communicate to the seating climate controls to adjust heating/cooling automatically to return the seat to a comfortable dryness. By utilizing this system customers will be able to enjoy the open air features of their cabin without the possibility of being stranded far from home with soaked seats.
How To Order:
        This Summer there the Bronco ordering system will launch, more details will come as we creep closer to the reveal. 
Leaked Factory Bronco Sport Pictures