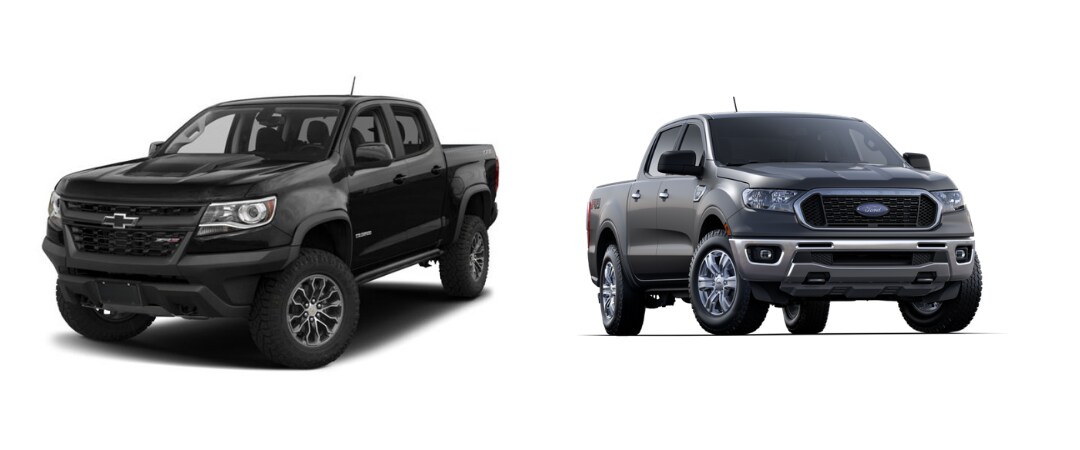 Attention Truck Drivers in Grand Rapids, Take a Look at the Ford Ranger Versus the Chevrolet Colorado
When it comes to shopping for your next truck, Ford and Chevy have their finger on the pulse of what truck drivers love. With models like the Ford Ranger and the Chevrolet Colorado, you'll find a variety of features that make your drive home to Cedar Springs easy and enjoyable. With powerful engine packages, stylish design and an interior roomy and packed with features, it's easy to understand why people enjoy test driving these two midsize trucks. At our Kent City dealership, we can't wait to show you what the Ford Ranger does best and how it stacks up against popular competition.
Check out a comparison of the two models below!
Ford Ranger versus Chevrolet Colorado
The Chevy truck offers a 2.5-liter engine while the Ford model comes with an intercooled, turbocharged 2.3-liter EcoBoost® engine
The Ford Ranger lineup comes with one engine option while the Chevrolet truck offers a 2.5-liter, a 3.6-liter V6 and a 2.8-liter Duramax turbo-diesel option. The Ford option doesn't cost you more for any of their trucks whereas you have to pay to upgrade with the Chevy
Both trucks come equipped with an automatic transmission- six-speed in the Chevrolet Colorado and a ten-speed in the Ranger
The Ford Ranger can tow up to 7,500 pounds while the Chevrolet model manages up to 7,700 pounds with the 2.8-liter engine package
Both models are available with four-wheel drive for those tough road situations around Muskegon
The Chevrolet Colorado offers a seven-inch infotainment screen on its base model while you have to upgrade to get a larger screen with the Ford Ranger lineup
Both trucks offer integration of Apple CarPlay™ and Android Auto™ as well as access to 4G LTE Wi-Fi® to help you stay connected on the go
Ford offers a variety of active safety features for their Ranger that like the Blind Spot Information System, which isn't featured in the Colorado. To access any of the Chevy's features, you need to choose the higher trim levels, which is not the case with the Ford model
If you'd like to learn more about the Ford Ranger, swing by Betten Baker Ford Coopersville and we'll help you pick out the features that you love the most!